UNIVERSITY TILBURG NL
Spring-summer-autumn-winter 2013-2014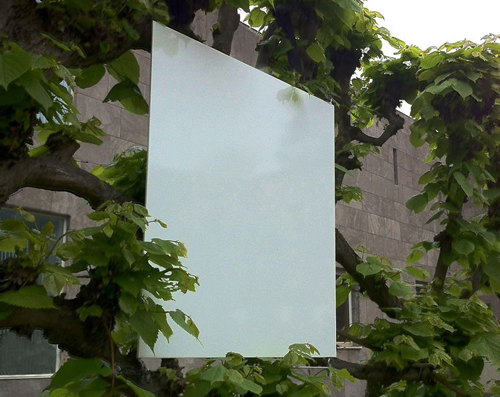 about countless changes of light
about countless whites and countless greens
This project builds on the work at my recent exhibition at the Arp Museum in Germany.
For this new project I will install white reflecting, powder-coated aluminium plates in the espaliered lime trees in one of the patios of the University of Tiburg's main building.
In this work of art my geometric work will be juxtaposed with nature. The continually changing shades of white and green and the reflections of the different greens in the white plates will be optimally visualized in this situation.
The actual reflection in this outdoor work refers to the inner reflection of the students. I will photograph and study the process of these countless changes of light, whites and greens during the exhibition. From the leafless trees of today to the leafless trees in the autumn and winter.