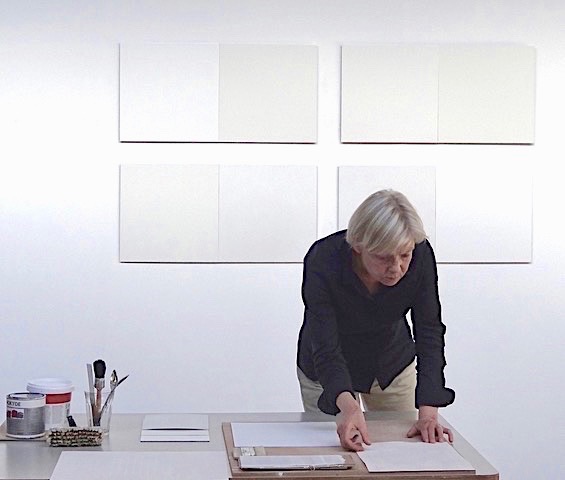 Ine Vermee (Tilburg 1954) is a Dutch abstract artist. 
about
Her work, is subdued and understated with sequences of coloured areas in a variety of techniques and in a tradition that we recognize from abstract geometric art and minimalism. Styles that became in vogue during the 1950s and 1960s, but never disappeared from the motley collection that is known as contemporary art. True riches are found in restraint. Or, as she puts it herself: 
"In these times of excessive acoustic and visual stimuli, the work attempts to realize moments of reflection and modesty".
white
White plays a prominent role in her work. In the history of the visual arts, white often represents a beginning. A white wall, a white canvas or a sheet of paper are ready to be worked on, painted, colored or at least partly covered. In Ine Vermee's work, white is not a beginning, but an end in itself. The white does not evoke an awareness of the lack of color, it becomes color by the shades in which it shows itself.
For a series of "whites", performed in enamel, she took a sample of the famous American architect Richard Meier as a starting point (Richard Meier Thirty Colors). Her work makes clear that there is no single type of white, but that there are infinite variations of whites.
commissions
Alongside her autonomous work she works on commission for offices, public spaces and private individuals.
For Tilburg University she studied the effects off the seasons and the changing colours on her seemingly neutral, white panels. At the side entrance she placed a number of white, powder-coated aluminium plates in the espaliered lime trees. From here she made her own color pallets.
For a commission for the city hospital in the same place she studied the blossom of the prunus near the main entrance of the hospital. This resulted in a polyptych, a photograph of the blossom and three folded aluminum panels of the same size, in wich she plays with subtle color reflections.
grants
Ine Vermee has received several grants from among others the Mondrian Fund in Amsterdam [NL].
exhibitions / collections
Her works are shown in several museums such as Museum Jan Cunen Oss [NL], the Rijksmuseum Twenthe in Enschede [NL], Museum De Pont in Tilburg [NL] and the Arp Museum Bahnhof Rolandseck Remagen (DE).
Her work is represented in various museum collections, including those of the Museum Jan Cunen in Oss [NL] the Rijksmuseum Twenthe in Enschede [NL] and the and Textile Museum Tilburg [NL]